Our lightweight hydraulic aluminum shoring was developed for narrow trenches and excavations. They are designed to prevent cave-ins in all but the most unstable soil conditions through hydraulic pressure by supporting the side walls of the trench. Approved wood sheeting may be used in conjunction with vertical aluminum shores when soil conditions indicate trench face sloughing or raveling.
With its hydraulic system, aluminum hydraulic shores can be installed by a single worker as fast as the trench is cut. This greatly reduces shoring time and cuts costs dramatically.
Available in standard heights, or as timber mounted Multi-Shores, custom sized and ready to install to the full depth of your trench.
Aluminum Hydraulic Shores Lit / Specs


Aluminum Hydraulic Shores Tab Data


Aluminum Hydraulic Shores Sizes
Aluminum Hydraulic Shores Image Gallery - Click to Enlarge
Multi-Shores - Heavy-Duty Vertical Shores
For use in trenching applications where the trench depth is deeper than the capacity of standard vertical shores. Timber is attached to heavy-duty aluminum rails in combination with hydraulic cylinders to make a complete unit. Available for timber lengths of 10', 12', 14', 16', 18', 20' and 22'.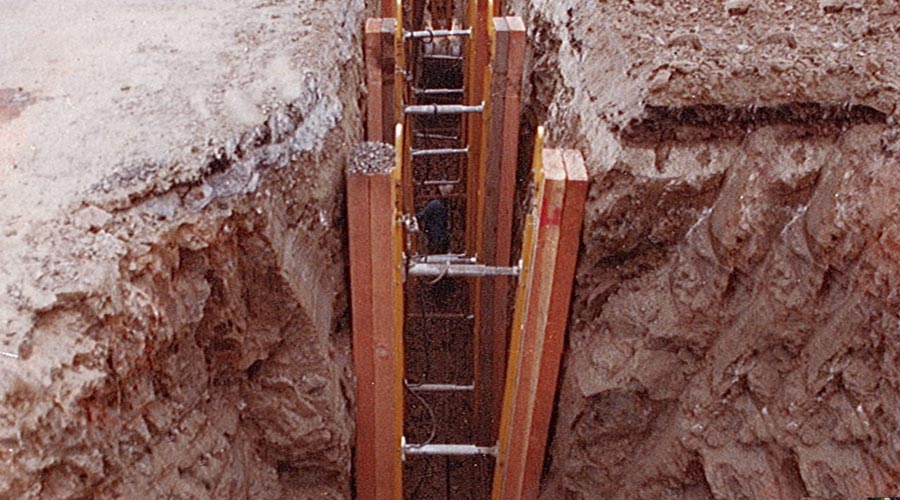 3" Hydraulic Corner Shore – Vertical Safety Support
The Pacific Shoring 3" Hydraulic Corner Shore uses two 3" aluminum hydraulic cylinders mounted on 18" or 24" long heavy-duty waler rails. Heavy-Duty plywood handles are attached to the assembly for the purpose of lifting and setting the corner shore into place and providing vertical safety support so that the corner shore cannot fall into the excavation. In all situations, a competent person should determine that the corner shore is properly set and fixed into position.
Up to 20 ft. Depth Rating in C-60 Soil
18" or 24" long Heavy-Duty Waler Rail
Features Dual 3" Hydraulic Cylinders
Steel Oversleeves Available
End Loading Capabilities
View Corner Shore Tab Data
Z-Shores - Wider Excavation Hydraulic Shoring
Trench Shoring Company's own, specifically designed answer to the problems of wider excavations. Z-Shore is built around a system of hydraulic rams and features a steel jacketed structure to withstand the rigors of heavy duty jobs. It goes into the trench in one piece for fast, easy installation.