Widest Widths • Strongest Rails • Longer Panels • Maximum Clearances
The Slide Rail system is a vertical sheeting and trench support system. It is used to replace the conventional application of wood or steel sheeting. In using the system, the excavation may be shored from ground level to subgrade without soil movement.
It is a highly effective system in areas having unfavorable ground conditions or where an existing underground infrastructure would pose difficulties in trench support.
By using the modular slide rail system either with side panel lining plates or in­line sheeting templates, the system will accommodate a variety of job site requirements.
There is an added benefit to the contractor, in that a significant savings in labor and materials will be realized.
Slide Rail Advantages
Provides safety while excavating
Tight sheeting without soil movement
Vibration free, no damage to adjacent structures
Saves money: Less material cost than conventional sheeting, finish in a third of the time using half the labor
Engineered to meet O.S.H.A.
Slide Rail System Videos
SBH Slide Rail - Features & Benefits
11:35 minutes
SBH Trench Shoring Installation
5:24 minutes
SBH Trench Shoring - Strut Free
0:59 minutes SBH Slide Rail Installation
2:31 minutes

Slide Rail Image Gallery - Click to Enlarge
Sample Configurations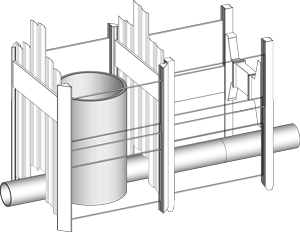 Tight Sheeting System with Rolling Struts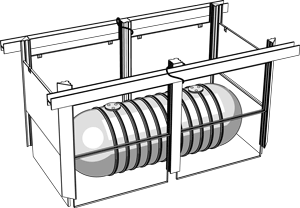 Two Bay Sheeted Pit - Rebraced

Small Rectangular Pit Closed All Four Sides

Small Rectangular Pit with Sheeting on One (or Both) Sides

Hydralifter... Less Vibration, Less Noise*
The Hydralifter is a hydraulic panel, post, and steel plate extractor. It is used to break free the inner base and top plates that are used in Slide Rail shoring. The Hydralifter is mounted to an excavator's hydraulic lines and is placed on top of outer panel rigging. The Hydralifter safely and gently removes plates without the use of heavy excavators leading to: safety on the site; less equipment damage; less vibration and noise; saving of time and costs.
*(See Video Above - "SBH Hydralifter")